7 Predictions for 2021 – Trends for influencer marketing content
In 2020 the world had to take a big leap in digitalization. This means marketing and communications changed too. Influencer Marketing content is now among the most popular types of marketing with reportedly 93% of brands using it and on track to become a $15 billion dollar industry by 2022. And it shows no sign of slowing down.
With increased popularity, demand, and company spend for influencer marketing, here is the top-performing marketing content for our advertisers:
#1 Micro influencers for the win
The adoption of Influencer Marketing can be seen from both perspectives. One can be seen by the sheer rise in the number of influencers on social media. Second can be seen by the increase in marketing spend on influencer marketing by businesses.
Micro-influencers and nano-influencers are influencers who do not have a huge number of followers. While there's no specific criterion, with between 1000 and 10,000 followers are considered a nano or micro influencers. This kind of influencer gets much higher engagement and costs much less.
Companies do not currently pay much attention to them but it looks like things will change in 2021 as they are proving to be quite efficient in helping brands find a foothold.
It's easy to find through VoxFeed influencers with a niche audience that aligns well with your target. Plus, they also tend to have higher engagement. On average, micro-influencers have 22.2 times more conversations weekly about recommendations on what to buy when compared to an average consumer
#2 Video Content is King
The usage of video is an ongoing trend in the influencer marketing space. However, with the growing popularity of TikTok and the introduction of Instagram Reels, it's expected to be more collaborative and creative than ever. 
With TikTok expanding its advertising options and publishing stories of how its platform can increase purchase intent. TikTok will definitely be a platform to create content for in 2021.
#3 Let's get real
Today's customers can differentiate easily between paid content and real reviews. 
Many influencer marketing campaigns have been criticized (and fairly so) for posting very elaborated reviews that look fake and fail to bring the desired results.
Of course traditional "pay-for-play" influencers is a good way to drive visibility and generate buzz – but it's an undeniable fact that when you are paying a professional influencer to say nice things about your brand – fewer and fewer people are taking it seriously.
Companies are now interested in working with influencers who are not just amplifiers but communicators. Even better: use their own fans and customers. Real customers telling their actual experiences and why they love brands are the ultimate influencers. Also, because these sponsors are just regular people, rather than "professional promoters", they could deliver real sales and customer acquisition at a fraction of the cost.  They have close connections with their family and friends, and since they're not used to create, promote or have paid content, their reviews feel genuine and engaging to their audience.
#4 No-Edit; No Filters
Part of getting real reviews and feedback is also the content. Authenticity on social media is one of the most effective ways to build a digital community, and it's translated over to content aesthetic trends too.
With a focus on authenticity, only subtle edits to photos are applied to create an "in-the-moment" and unedited look into their lives. 
While Instagram, TikTok and Youtube are essentially visual platforms, pretty pictures and cute videos are not enough anymore to succeed on the platform.
#5 Ephemeral Content is still popular
Ephemeral content is something that is available only for a short duration and disappears afterward. Instagram Stories and TikTok are perfect examples of this type of content. They are short, engaging, and addictive in a way that people can spend hours scrolling through one Story after another.
This is evident by the substantial rise in Instagram Stories' daily active users.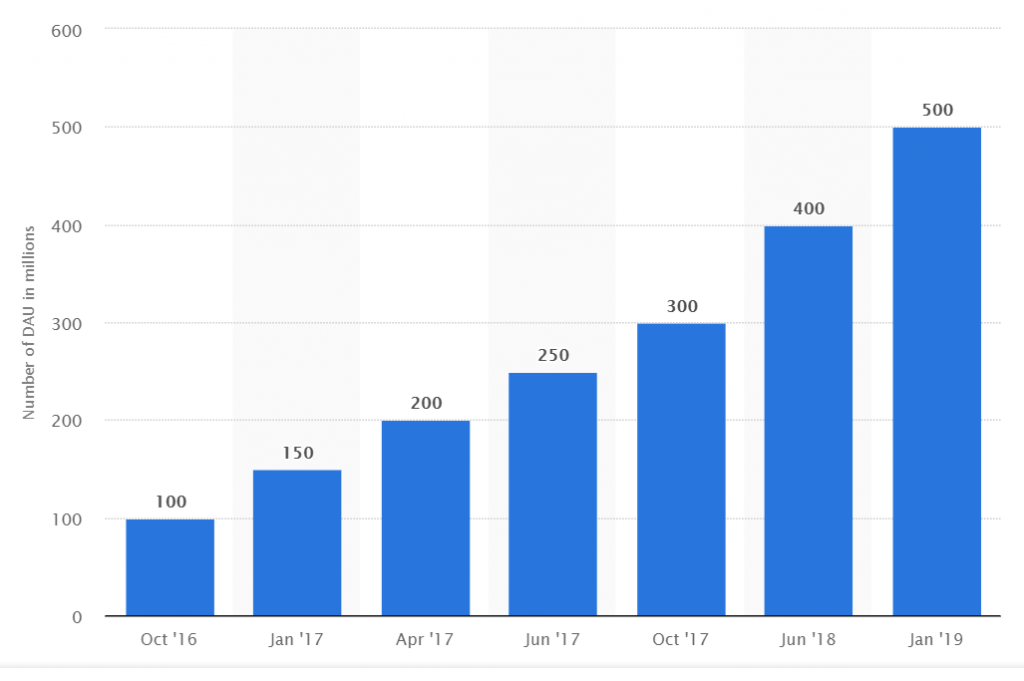 #6 Live Content and Streaming is the "New Normal"
2020 turned businesses on their heads, and entire retailing models have had to change to making shopping possible. Although the traditional social platforms have performed best in 2020, specialist live streaming media have also had stratospheric increases in popularity, which is likely to continue into 2021.
People are now used to being able to interact with brands in real-time online. They can examine a product without leaving their home. Also, more customer service is carried out by live streaming. This includes activities, such as setting up bank accounts, that would have been unthinkable in the past.
#7 Happily ever after
Influencers will become true brand partners in 2021, with brands investing in ongoing relationships over an extended period of time. Is no more a 'one-off' strategy.
We might see more contracts that protect both the brand and the influencer. Many companies these days work with influencers without proper contracts, which can be quite risky since scams are common.
For that, it's important to choose a reliable platform like VoxFeed.