Success Stories: Arista Records and how VoxFeed reduced their costs on TikTok Campaigns
Arista Records is an American record label owned by Sony Music Entertainment, originally founded in 1974. It was the home to some of the most iconic names in the industry including Whitney Houston and Aretha Franklin. Here's how they've launched TikTok campaigns with VoxFeed.
With a strong mix of established and new talent, Arista is a label to reckon with. Its approach is simple: a small but strong roster, who showcase unique voices and songwriting talents. The label is keen to use social media, so all its roster and the label itself have a strong online presence to cultivate and grow meaningful relationships with their artists' fan bases. For this, the use of VoxFeed to increase their reach and launch campaigns was an obvious choice.
The goal of a particular campaign with VoxFeed was to introduce the songwriters Dennis Lloyd and Julian Lamadrid to the Latin American audiences.
Arista Records: Campaign Results

The Campaign: Promote "Alien" and "Patience" singles with TikTok
Arista Records wanted to promote and introduce Dennis Lloyd and Julian Lamadrid with their singles "Alien" and "Patience" respectively. The social media platform chosen was TikTok, as the profile of the social network matched the type of audience Arista was aiming for. Originally released in 2016, TikTok has been steadily gaining momentum over the years. Then, it's popularity skyrocketed thanks to the global pandemic that is forcing people to shelter in place and find entertainment at home.
Arista's challenge to the fans was to invite them to create content and their own interpretation of both singles. How they perceived the songs, what it meant to them and how they were adopting its philosophy in their daily lives. They had to use the audio of the songs in the background and tag their friends, inviting them to do the same.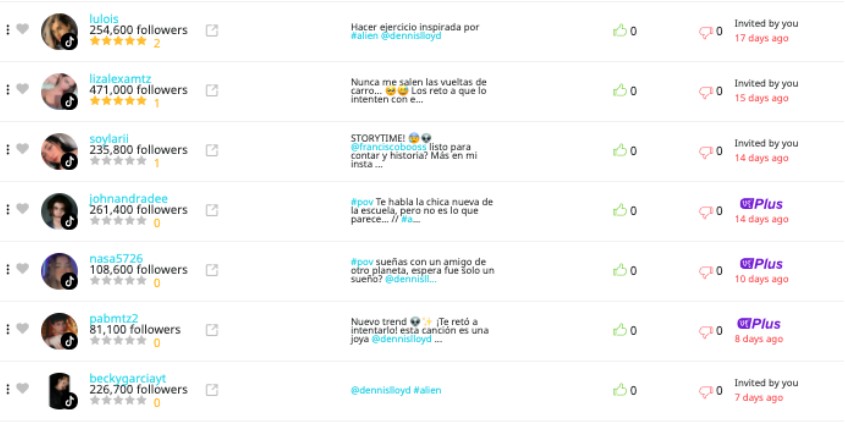 To select the fans to participate in the campaign, the advertiser could either accept the requests by the content creators or influencers in the platform, or use VoxFeed Plus to select profiles that match the audience defined by Arista. All the time, the advertiser was in complete control of the content created, as nothing gets published through VoxFeed without their approval.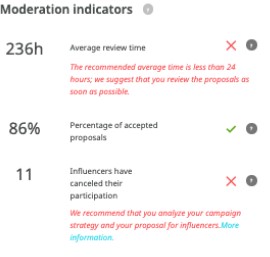 The results
The TikTok campaigns with VoxFeed allowed Arista Records:
40% and 60% reduction on CPE (Cost per Engagement) vs other paid media channels for "Alien" and "Patience" respectively

Engagement Rate around 10%, which is considered optimal for TikTok

A 27% to 64% decrease in CPM (Cost per thousand views) vs TikTok benchmark for "Alien" and "Patience" respectively

More than 597 thousand views of the campaigns content
Campaigns and Marketing Tactics for using TikTok
TikTok is everywhere these days. It has risen through the ranks of social media for many reasons:
The whimsical nature of its videos. Creativity and humor and key for TikTok. Think a lot of dancing in the kitchen in front of cell phone cameras. 
Sound bites and voiceovers. Users can choose from thousands of audio clips and soundbites for their videos. This leads to humorous lip-syncing songs and dialogues. 
Easy to share. The short videos are easy to share with fellow TikTok users as well as on other social media platforms such as Instagram or Twitter. This lends to their virality. 
Challenges. Challenges are an extremely popular form of content on TikTok. They provide a new way for users to interact on social media, leading to TikTok's high rates of engagement.
TikTok is clearly an important new force in social media, so here are a few marketing tactics for when doing TikTok campaigns:
Authenticity
One of the most important things to consider when creating a TikTok campaign is to be as authentic and relatable as possible. Complicated and heavily edited content does not work as well on this app as it does on Instagram for example. Users prefer something that is a bit more "raw" that they can laugh and feel emotionally connected to.
Partner with other creators
If you're struggling to build a following on TikTok, you might want to think about partnering with relevant creators on the platform. Brands can grow and manage their TikTok community through VoxFeed. By inviting their customers and followers to join campaigns, brands have the power to reach a greater audience.
Influencer Marketing on TikTok
Influencer marketing is popular because it can be one of the fastest ways to generate results. However, sifting through influencers can be difficult, and it's not easy to work out whether a particular influencer will deliver good results. For that, VoxFeed Plus allows you to segment influencers based on their interests and their audience profile. Find the best profiles for your campaigns according to their gender, interests, audience size, social networks, engagement rate, cost, scope, or location.
Jump on Trends
Whatchout specific hashtags trending on TikTok. If you make a video based on those hashtags, there's a better chance your video will reach a broader audience. The easiest way to find them is by going to the "search" section on TikTok, also known as the "discovery page."
VoxFeed's enterprise-grade technology helps brands create and manage communities of engaged content creators. With our software, brands can build long-term, multi-campaign relationships and manage the entire collaboration process, from recruiting and identifying collaborators to payment and results-analysis. 
For 7 years, VoxFeed has been helping brands like ABInBev, Philips, Vice, GM, Cadreon, Walmart, Amazon, Adidas, Unilever, P&G, L'Oreal, and more connect with content creators to run influencer marketing, brand advocates and customers campaigns.