Success Stories: How Airbnb grew their organic web traffic by 321%
Airbnb is a marketplace for publishing, advertising and booking online accommodations and experiences in more than 190 countries. It is already one of the most valuable brands in the world, particularly in the hospitality sector, and used VoxFeed as a tool to achieve some of that growth.
The online strategy included promoting the launch of experiences on the platform, based on user preferences, that connect travelers with accommodations and activities that may be of interest to them, depending on their profile.
The main objectives for the campaign were to increase brand awareness, organic web traffic, and the number of bookings on the platform.
Airbnb: Campaign Results
Average monthly organic web traffic at the website
Number of Bookings during the Campaign
Cost per Click (CPC) vs Paid Media
The Campaign – Brand Advocates and a Referral Program on steroids
Airbnb sought to inspire travelers to re-imagine the meaning of travel by showcasing authentic experiences through its community of users and brand advocates. The fundamental purpose of the campaign is to present Airbnb as the alternative to pre-fabricated commercial travel, offering more authentic experiences and meeting the needs of its users. 
The target metrics were to grow its organic web traffic, increase platform utilization and the number of bookings.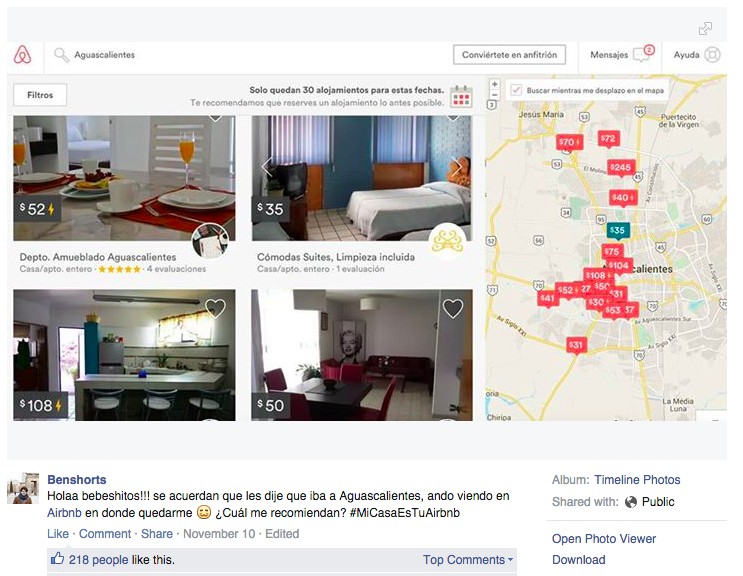 To achieve the objectives, a campaign was designed to elevate Airbnb's referral program to another level. 
The brand invited some of its customers, its brand advocates, to share their real-life experiences on their social networks. They created content about the accommodations and activities they did through Airbnb, in exchange for a discount coupon they could use for future bookings.
The content, in order to be approved, was moderated by the brand through the VoxFeed platform. This made it easy to manage the content created on a large scale and ensure that the posts met the objectives of the campaign: the content had to be genuine, look natural, authentic, and show the brand ambassadors with their family and/or friends during their stays.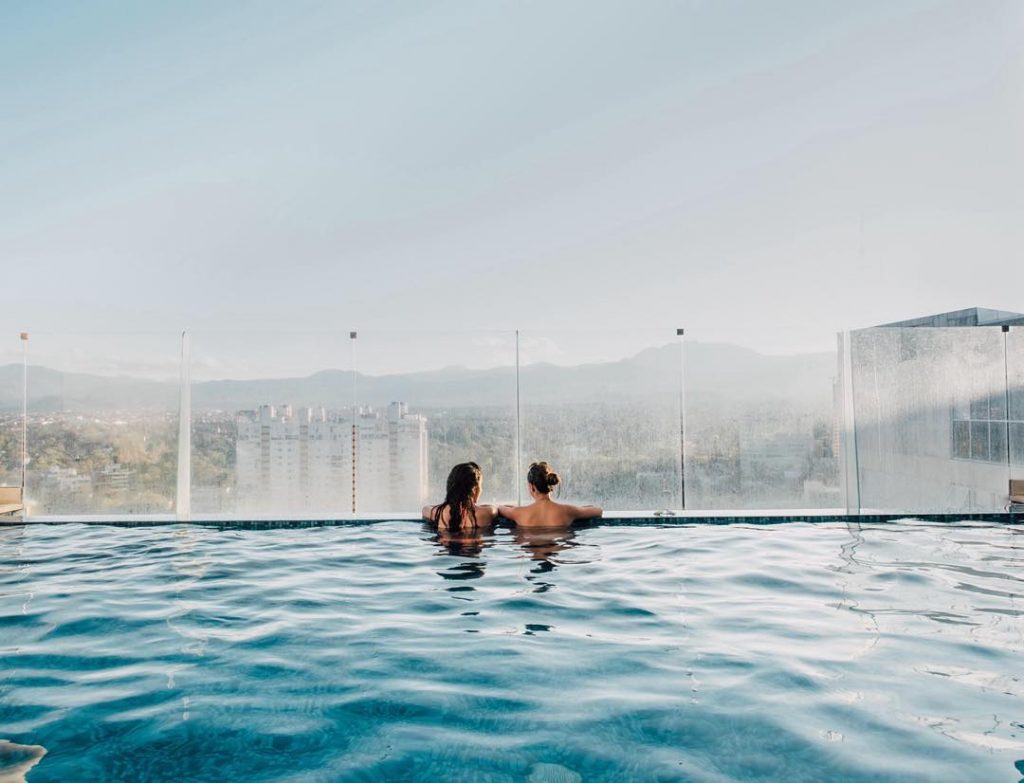 To maximize the reach of the campaign and attract new customers, all publications included a referral link. Through this link, each person who made a reservation for the first time on Airbnb was entitled to a discount coupon to be used on the platform. 
The campaign went viral, creating brand awareness, increased traffic on the webpage, bookings growth and new users on the platform.
The results:
This Airbnb campaign through VoxFeed allowed:
Monthly organic traffic on the website growth by 321%.
First bookings grew by 42%.
Lower cost per click (CPC) vs. other Paid Media channels by 4.8%.
Growth in the number of top keywords in search engine rankings by 138%.
Organic Web Traffic
The organic web traffic of a website or blog are all those visits that come from the results page of Google, Yahoo, Bing, or any other search engine.
The organic web traffic is the one that, in most websites, generates a greater number of visits and of higher quality, since they are users with a certain interest in the subject of the page. This is essential for the success of a website and everything behind it: a brand, a company, whether online, physical or omnichannel.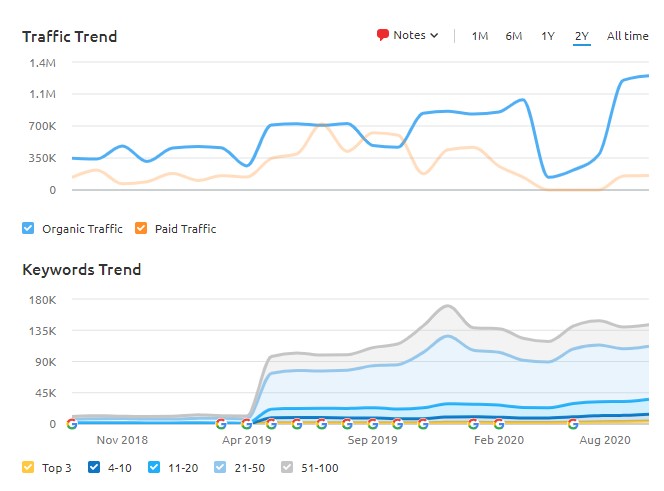 Brand Awareness & Brand's Community
Brand awareness is essential in a company's marketing campaigns, especially when launching new products, services or features.
Brand awareness may be a vague concept, without a specific metric associated, but it has a lot of value. It is really important for brand takeoff and, above all, for achieving marketing goals and KPIs.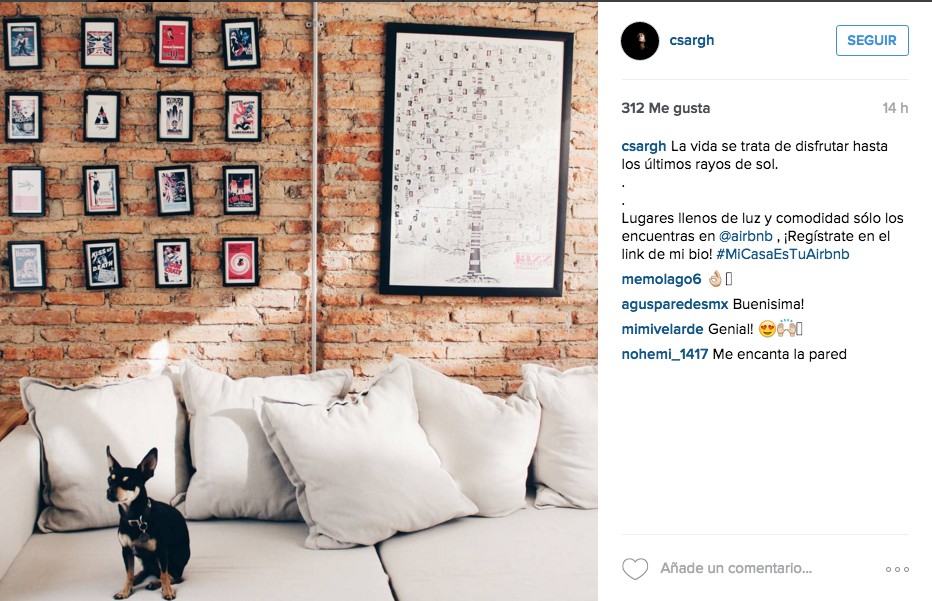 There are 3 key factors in building brand awareness through VoxFeed that define the importance of Brand Awareness:
1. Create a connection
Brand recognition generates associations of actions or products with specific brands, unconsciously motivating them to use the brand name instead of the common words that name these products.
Once a consumer creates a connection with your brand, they are more likely to make subsequent purchases without much thought and, more importantly, become your brand advocate. There, you build a bridge between trust and loyalty with your customers. Real users and fans lend credibility and authenticity to your brand and help build trust. They will be your brand ambassadors: they generate recommendations in their networks, based on real experiences with your products.
2. Create Trust
In a world where all of us, consumers, are looking for different options, we ask for other people's opinions as an effective method to make a purchase decision. And, in this case, trust in a brand is everything.
Your brand advocates have a word in this. When a significant portion of consumers has a positive memory of a brand, those perceptions can be leveraged in a campaign to strengthen ties. You can encourage your brand advocates, your regular customers, to share those experiences and help spread your message through their networks.
3. Create Value
Brand equity describes a value determined by consumer experiences and overall brand perception. Positive experiences in sum with positive perceptions create positive brand equity, while negative perceptions and experiences build negative brand equity.
VoxFeed allows you to create positive dynamics around your brand, encouraging your customers, your brand advocates or brand ambassadors, to spread their experiences to all their networks and attract new customers.
Having the tools to develop such strategies, these, for the most part, allow you to acquire customers at a fraction of the cost vs. other traditional digital channels. The authenticity of these types of interactions breaks through the noise of traditional marketing and supports a business's user acquisition strategy on its most valuable asset: customers.