Directory – Nano Influencers, Micro influencers & Macro-Influencers
What are Nano Influencers, Micro-Influencers, and Macro Influencers?
Nano-influencers are profiles with very few followers but specialized in a niche market. Nano influencers generally have less than 1,000 followers, but it is compensated by a great influence in their closest circle. On many occasions, they even know each other personally.
Micro-influencers are those people with 1,000 – 10,000 followers on their social networks. They may specialize in a specific market segment or area, share content on their social profiles about their interests and publish sponsored posts when associated with brands.
Influencers or macro-influencers are profiles that have a large number of followers. From >100,000 they are already considered macro-influencers. Previously, celebrities were the only ones who had the power to reach larger audiences, but thanks to social networks, new social media profiles with similar influence are emerging.
Where to search for influencers?
VoxFeed is the biggest influencer marketing platform, to connect brands with brand advocates, nano, micro and influencers. Brands can access for free and can connect, interact, launch campaigns, manage payments and measure results on their influencer campaigns. All through the platform, in an easy, fast and secure way.
With VoxFeed you can select nano, micro and influencers according to their genre, age, location, profile, realiability, reach and interests.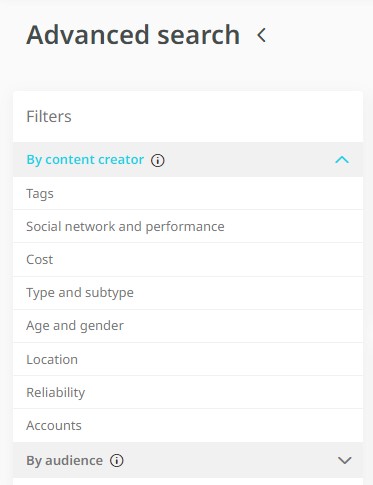 Search for influencers
Directory - Nano Influencers, Micro and Macro Influencers
Search for Influencers: By Social Media
Nano Influencers, Micro Influencers & Macro Influencers: By Profile and Interests
Scale your campaigns with micro-influencers and influencers
Imagine having the potential to scale your influencer marketing campaigns with tens of thousands of micro-influencers. VoxFeed helps you scale campaigns with micro-influencers quickly, safely and reliably. You can reach thousands of influencers with just one button.
VoxFeed allows you to segment influencers based on their interests and their audience profile. Find the best micro-influencers for your campaigns according to their gender, interests, audience size, social networks, engagement rate, cost, scope, or location.
Thanks to this feature, you can execute better campaigns with a large number of better-fitting collaborators.