How to identify authentic creators? Find out here!
Detecting inauthentic accounts on social media
A major concern when working with creators is knowing whether they have authentic accounts with real followers. How do you know that a creator isn't buying followers? How do you know if their audience is genuine?
To answer these questions, here are a few elements that can give us clues about a creator's authenticity:
Engagement rate (ER) –

It's a potential warning sign when someone has a large following but low participation. Real audiences generate likes and comments. Still, it's not uncommon for users with lots of followers to have a low ER.

Sudden peaks in followers –

Another trick to detect fake followers on Instagram is the sudden peak in followers. A healthy profile has periods of increase as well as loss in followers, but always at a stable pace.

Location of their audience –

An audience's location should be in a

fairly

close radius of the creator's location (and language)

. Beware of the creators who have lots of followers in countries that have nothing to do with them. For example, an audience in Russia or Thailand when the creator is in Mexico is suspicious.

Review the data –

VoxFeed has developed features that can help you detect alert signals. Our software gives you profile analysis an

d participation metrics.
VoxFeed tools to verify a creator's authenticity
Voxfeed users can rest assured that they're working with authentic creators thanks to the features built into our platform. Here are a few ways we help evaluate the creators you choose to participate in your campaigns.
Reliability points
This measurement shows how well a creator sicks to Voxfeed's rules. Each account has a five-star ranking system to show its reliability score. The reliability points are based on the creator's campaign participation process. The more positive interactions they have, the greater the trust brands have with them. This means opportunities for better campaigns and a long-term relationship.
Audience Location
VoxFeed displaces general stats on the geographic location of a creator's audience. When the majority of their audience is far away or speaks a different language, it usually means fake followers.
Authentic Followers Algorithm
Using HypeAuditor technology, VoxFeed provides information on how authentic a creator's audience is. HypeAuditor evaluates the authenticity of an audience based on various criteria. These include number and type of followers, account privacy, registration date, and use of geotags.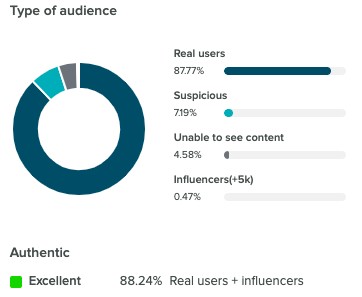 Keep in mind three different types of followers:
Real users –

Active followers that interact naturally with the creator's content.

Does not see content –

Real followers but are not seeing the content. These are either inactive or non-participatory accounts.

Suspicious accounts –

These are either Instagram robots and people who use purchase likes, comments, and followers.
*TIP: The ratio of followers who don't see content and suspicious accounts should not exceed 25% of the total number of followers
Authentic communities and followers are always better than a large number of (potentially fake) followers. Use VoxFeed's tools to find the best creators for your campaigns.
To find authentic creators and influencers, log-in to your Voxfeed account now!