Social Media Ideas #2: Product Reviews and Referrals in Marketing
Social Media Ideas: Product reviews and referrals in marketing are arguably the most useful way to eliminate shoppers' concerns regarding a product. 90% of the consumers say they are influenced by reviews in their purchase. The dilemma is that very few customers create or write them. To help you with that, you can launch a Product Reviews Campaign.
No matter whether you are a popular brand or just started out, product reviews do play a crucial role in your e-commerce in terms of credibility. Credibility is one of the key elements that decide the success of your brand in the long term.
Other Social Media Ideas: Giveaways and Raffles
Businesses often overlook the importance of product reviews and referrals in marketing. The major focus remains on designing the site look and optimizing the checkout page but nothing really matters if you are not getting good reviews on your products.
The importance of product reviews can be understood by the fact that 90% of the consumers read online reviews before making a purchase and 72% of the consumers will be prompted to take an action after reading positive reviews.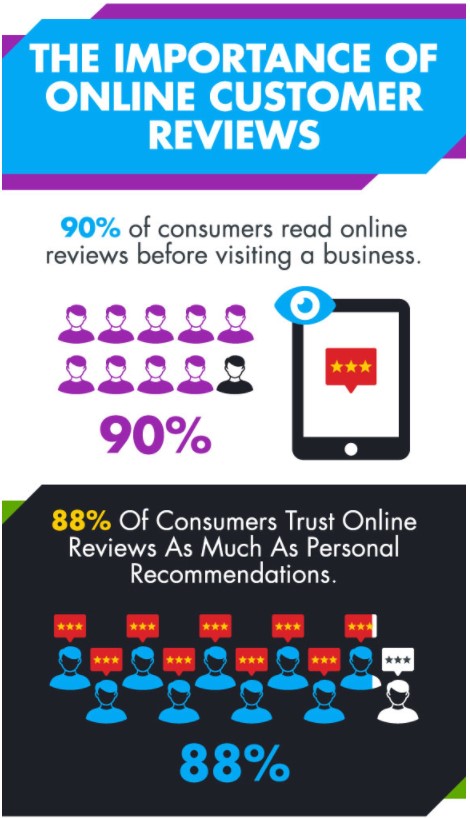 What is a product review?
Product reviews are the opinions or feedbacks of customers for a particular product. Many online businesses put up a review section on their website to allow customers to rate and review the product they purchased.
A product review helps other users get a clear idea of the product before purchasing it. They can read the reviews, make their mind up, and decide whether the product is worth purchasing or not.
What about referrals in marketing?
In the Internet era, who says word-of-mouth can say touch-sight (write a comment and have someone else read it, for example), and this would be the basis of the referrals in marketing. This technique is based on encouraging existing customers of a brand or business to recommend it to people around them.
As it is a direct recommendation, made by a known and trusted person, this leads to greater attention to that comment or suggestion. Even more trust than if the recommendation comes from a blog or a website, no matter how close the potential customer feels to the person who wrote it, because they know that there may be an economic compensation behind it.
Don't just wait for them: Launch a Product Reviews Campaign
With social media, brands are no longer in control of the end to end message chain and decision making process. When being swamped, consumers tend to turn to things they trust – reviews, opinions and ratings from their peers and opinion leaders in the industry. For this, you can invite your customers to create content and reviews of your product or select nano & micro influencers to do it and be your referrals in marketing.
Not only are product reviews a great way to generate trust among potential buyers, but they also generate reach and awareness for your brand and products on social channels. As with all other forms of influencer marketing, it is recommended to take a more strategic approach, building up a loyal, reliable, and dedicated pool of brand advocates with a series of campaigns.
What NOT to do
Avoid doing one-off campaigns. You might want to reward your most loyal customers and brand advocates that lead new sales to your brand. A one-time campaign usually gets lost in the noise and does not create the awareness brands are aiming for.
A great piece of advice also is: do NOT try to push your "script" onto the brand advocate. Let them make and create their honest reviews. Put out what you have to offer and let your fans come to you. This not only ensures a pool of candidates that truly like your product, thus being able to advocate for it more authentically but also provides great feedback for you as a brand by being able to see what influencers and customers, being representative for their followers, and thus your target audience, will pick up on.
Structure your Product Reviews Campaign
To avoid one-off campaigns, you might want to define the journey that you want to take your audience.
Influencer marketing drip campaigns are an example of that. A drip campaign's primary goal is to nurture your audience, deliver highly relevant content to convert them, and, essentially, meet them at every step of the sales funnel.
To ace it, you need to address your pain points first:
Do you need more checkouts?
Drive your one-off website visitors back to your website?
Do you need to increase user engagement among existing customers?
Having your pain point in mind, structure the messaging for each part of the funnel:
Create Awareness: Product reviews focusing on the product key features for the target audience through content creators and micro influencers;
Convert: Using the same influencers and advocates, offer a one-time exclusive discount / coupon code for first purchases;
Increase ROI: Invite your loyal and new customers to share their reviews on the product across their multiple social media channels.
How to launch a Product Reviews Campaign?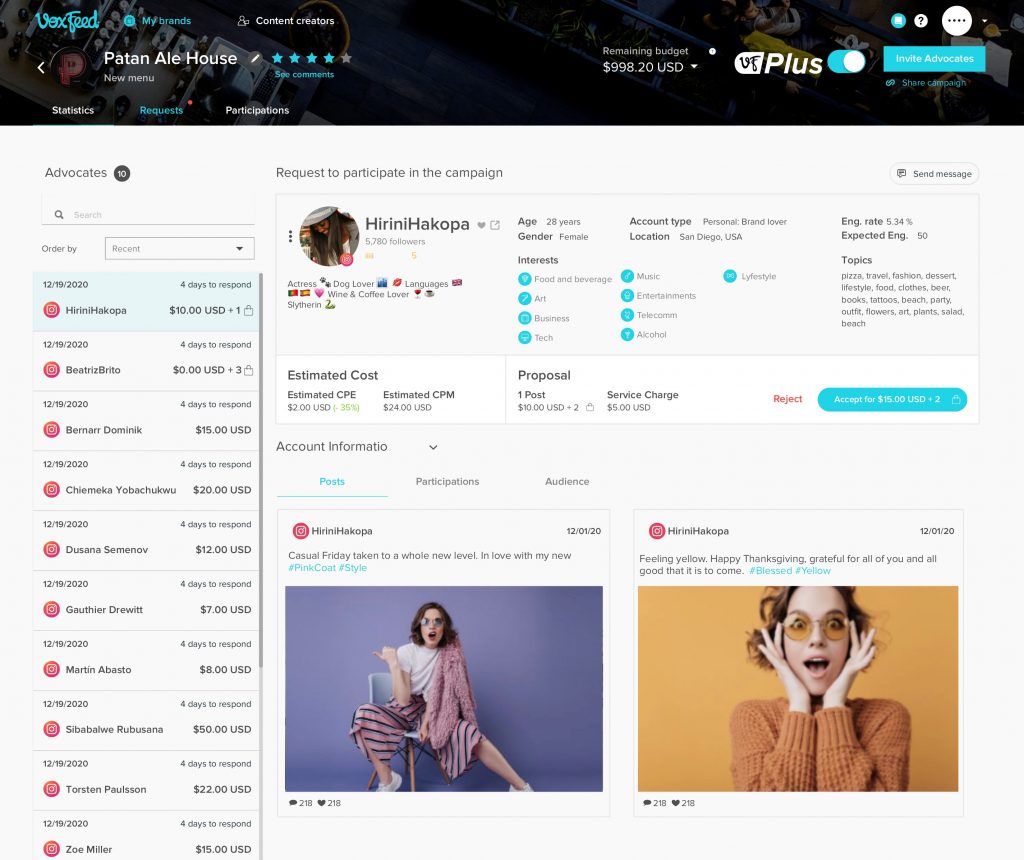 Using VoxFeed, you can run this type of campaigns in three simple steps:
Create your campaign at VoxFeed and let it open for participations. All the micro influencers and content creators will have access to it and can ask you to participate. Also, you can share it and invite your own customers to create product reviews for your using their social media.
Give them your main guidelines and the type of content you would like to receive, but let it open to their creativity. You don't want it to sound like a canned message.
Measure campaign performance. Pick the content creators & influencers that delivered the best content and replace the remainder with other candidates. Re-iterate and improve.
Create your Product Reviews Campaign at VoxFeed