Find Micro Influencers on Instagram & TikTok: Free Platform
VoxFeed is a social media influencer platform, that connects brands with nano, micro and macro influencers on social media. Brands can access for free and interact directly with content creators, launch campaigns, manage payments and measure results on their influencer campaigns. All through the platform, in an easy, fast and secure way. Check here how to find micro influencers on instagram and tiktok.
Find Influencers on Instagram and TikTok here with your free account
Micro influencers on Instagram & TikTok
A micro influencer is an individual who has the power to affect the purchasing decisions of others, because of their authority, knowledge, position or relationship with their audience. An individual who has a particular niche of followers with whom they actively interact. The number of followers depends on the size of the niche.
Micro influencers on TikTok or micro influencers on Instagram are individuals who have built their reputation on their knowledge and expertise on a particular topic in these social networks. They make regular posts about that topic on their favorite social media channels, and generate a large, enthusiastic and engaged following that pays close attention to their opinions.
It is important to clarify that these individuals are not simply marketing tools, but are social relationship resources with whom brands can collaborate to achieve their marketing objectives.
About the Social Media Influencer Platform
Imagine having the potential to scale your micro influencer marketing campaigns with tens of thousands of micro influencers on instagram and tiktok. VoxFeed helps you scale campaigns with influencers quickly, safely and reliably. You can reach thousands of micro influencers with just one button.
How To Find Micro Influencers
With VoxFeed you can select nano, micro and influencers according to their genre, age, location, profile, realiability, reach and interests.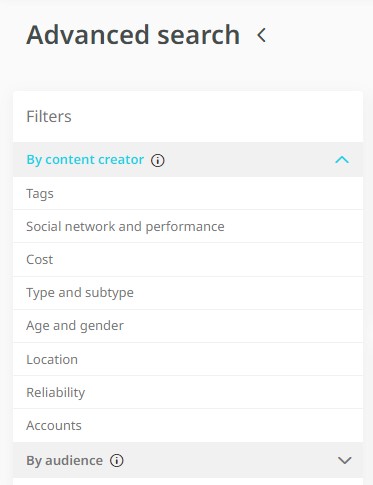 Within the same social media influencer platform, you can launch and measure campaigns. From brief setting, type of content and social media to be used, payments and performance measurement.
Verify their authenticity
A major concern when working with creators is knowing whether they have authentic accounts with real followers. How do you know that a creator isn't buying followers? How do you know if their audience is genuine?
To answer these questions, here are a few elements that can give us clues about a creator's authenticity:
Engagement rate (ER) – It's a potential warning sign when someone has a large following but low participation. Real audiences generate likes and comments. Still, it's not uncommon for users with lots of followers to have a low ER.
Sudden peaks in followers – Another trick to detect fake followers on Instagram is the sudden peak in followers. A healthy profile has periods of increase as well as loss in followers, but always at a stable pace.
Location of their audience – An audience's location should be in a fairly close radius of the creator's location (and language). Beware of the creators who have lots of followers in countries that have nothing to do with them. For example, an audience in Russia or Thailand when the creator is in Mexico is suspicious.
Review the data – VoxFeed has developed features that can help you detect alert signals. Our software gives you profile analysis and participation metrics.
Using HypeAuditor technology, VoxFeed provides information on how authentic a creator's audience is.  HypeAuditor evaluates the authenticity of an audience based on various criteria. These include number and type of followers, account privacy, registration date, and use of geotags.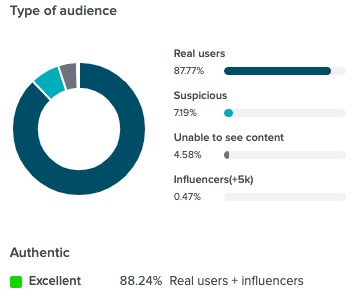 Start collaborating with micro influencers on social media
Brands can access for free and connect, interact, launch campaigns, manage payments and measure results. All through the platform, in an easy, fast and secure way.