Content Creation: How to Generate Content for Artists and Brands
All about content creation: How to collaborate with brands and artists. If you're interested in creating engaging social media content and collaborating with brands and artists, this step-by-step guide is for you. You'll learn how to create quality content, increase your social media reach, and build relationships with brands and artists for successful collaborations. Get started today and start monetizing your social media.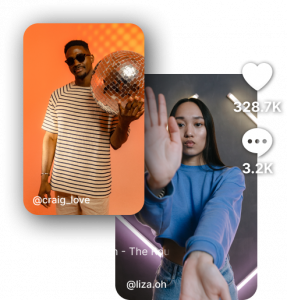 Find out which brands and artists are looking for content creators.
VoxFeed is a platform that connects content creators with brands, artists and/or record labels. To collaborate with artists and brands through VoxFeed, the first step is to register as a content creator on the site. From there, you can connect your social accounts (TikTok, Instagram, Twitter or YouTube) to receive personalized offers for both national and international advertising campaigns.. 
Define your niche and your audience.
Before you start creating social media content, it's important to define your niche and your audience. What kind of content would you like to create? Who would you like to reach?
Identifying your niche and your audience will help you create content that is more focused and appealing to your target audience. In addition, this will also help you attract the attention of brands and artists who are interested in collaborating with you and reaching your specific audience.
To define my niche and audience, I must first identify what topics I am interested in and what areas I have expertise in. For example, if I'm into fashion, I can create content related to fashion trends, healthy lifestyles, style tips and advice on how to match outfits. This will help me attract an audience interested in fashion.
Use design and editing tools to create visually appealing content.
Once you have defined your niche and audience, it is important that you create visually appealing content to capture the attention of your audience. Use design and editing tools such as Canva, Adobe Photoshop or Lightroom to create eye-catching images and graphics. Remember that visual content is an important part of any social media strategy, so be sure to dedicate time and resources to its creation.
Learn more about content editing tools.
Look for collaborations with brands and artists that fit your niche and audience.
Once you have your VoxFeed profile, created quality content and established a solid social media presence, you may want to start engaging in collaborations with brands and artists that fit your niche and audience.
This can help you increase your reach and attract new followers. Research brands and artists that are active on VoxFeed and share similar interests as you. Remember that the collaboration should be mutually beneficial and authentic to your audience.
What is content creation.
Content creation refers to the process by which original and relevant content is generated for a specific audience, with the objective of informing, educating or entertaining. This practice can be carried out in different formats such as text, video, images or audio and takes place on various digital platforms such as social networks, websites or blogs.