Why your brand needs to partner with micro and nano influencers
Rethink your influencer marketing budget and strategy
The global pandemic is causing businesses worldwide to rethink their advertising and marketing budgets and prioritize campaigns that will deliver the biggest bang for the buck.
At VoxFeed, we believe that the most cash-efficient mechanism to drive actual buying behavior is through the creation and careful cultivation of brand advocacy communities. You can read more about the approach here but, in brief, brand advocates come from your real users, customers, and fans – those that have an actual connection with, and authentic admiration of your brand or product.
In this post, we'll explain why we think working with a community of your own nano-influencers and brand advocates is the best solution for a reduced marketing budget.
Smaller social media profiles are the most influential
Paying professional influencers to say good things about your product can still deliver value – if you're interested in brand awareness or getting your brand name in front of millions of viewers, then these pay-for-play "Mega Influencers" are the way to go.
However, data from The Influencer Marketing Hub's latest report shows that the size of an influencer's following doesn't necessarily correlate with more engagement. On the contrary, social media profiles with a more focused following generally have better rates of engagement, which will translate to better conversions. Check out the following: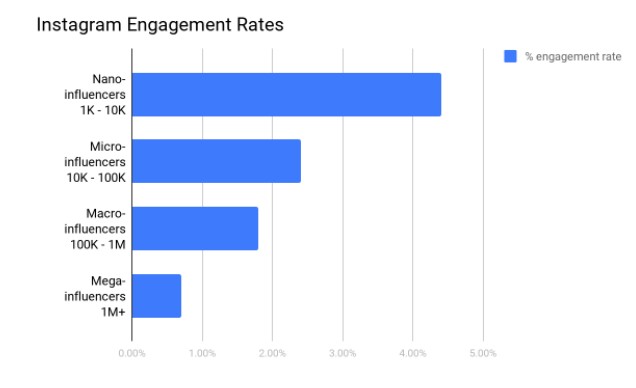 Of course, this is just common sense – if you see a movie star with a million-plus followers promoting their favorite brand of beer on Instagram, you naturally take it with a grain of salt. But imagine a similar endorsement from an Instagram user with 5K followers who is known for posting about craft beer – you're more likely to take their recommendation more seriously.
How do brand advocates fit into the picture?
Obviously, the best of these Nano influencers are those that already know and love your brand – content-creating brand advocates who have a more intimate relationship with their followers and are eager to talk about the brands they love.
Chances are, it's already happening for most brands – only they don't know it. I hear all the time from CMO's that the social media content that has the biggest impact on sales is usually generated by random strangers. They only learn about it after the fact. Usually, it's a quirky funny YouTuber who does makeup tutorials for her 8,000 fans – she talks about a blemish concealer that she loves, it gets shared and re-shared and, bang, sales go through the roof. Only later does the brand track down where the bump in sales came from.
Brand advocates deliver the best return on investment.
Why do we say brand advocates are the best solution for your marketing budget? First, their authenticity delivers real buying behavior and second, they generally aren't looking for much (if any) monetary compensation. Many are just delighted to be noticed or mentioned by a brand they love. In exchange for some free or discounted product, access to exclusive events or products, or some corporate schwag, you can harness the power of these content creating brand cheerleaders. You could essentially run multiple campaigns with hundreds of loyal users without spending a single dollar.
How do I find and build my advocate community?
Call us. This is what we do. We can help you find your fans. We can help you onboard, train, and engage them. We'll help you build a long-term, multi-campaign relationship with them such that with every campaign you do, you'll get to know which ones can drive buying activity, within which demographics, and how reliably they can do it. Meanwhile, they'll learn about your brand and what's important to you so they can better represent your core values.
If you're wondering what is the most effective way to win on a minimal marketing budget, shoot us an email or schedule a call here. We'd love to chat and come up with solutions for your brand.