Integrated Marketing Planning in 4 steps
Integrated marketing communication is a simple concept. It ensures that all forms of communication and messages are carefully linked together. To do this, you'll need to apply these 4 steps for integrated marketing planning.
Integrated marketing strategies have proven to be reliable because the fusion of digital and traditional marketing ensures that communications incorporate the best of both worlds and reach all relevant audiences. Communication is considered to be most effective when messages are delivered without any interruption and are clear.
What is an integrated marketing communication?
Integrated marketing communications is an approach to promoting a message through multiple strategies that work together and reinforce each other. For example, a brand may promote a new logo, tagline or strategy through multiple mediums, such as print, television, web and social media. Each approach may be slightly different for the specific medium, but they will all direct audiences to the same message. There are countless ways to approach this creatively.
This is enhanced when integration goes beyond basic communication tools. There are other levels of integration, such as horizontal, vertical, internal and external integration.
Levels of Integration
Horizontal. Horizontal integration occurs throughout the marketing mix and across all business units: for example, production, finance, distribution and communications must work together and be aware that their decisions and actions send messages to customers.
Vertical. This means that marketing and communication objectives must support the company's business goals and mission.
Internal. Internal integration requires internal marketing that keeps all staff informed and motivated about anything new, from new announcements to new corporate identities, new service standards, new strategic partners, and so on.
External. External integration, on the other hand, requires external partners, such as advertising and public relations agencies, to work closely together to deliver a single, seamless solution, a cohesive message, an integrated message.
Integrated marketing planning – 4 steps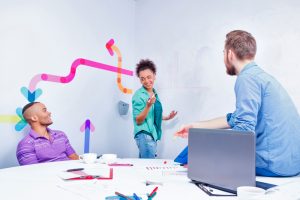 #1 Identify your communication channels
As part of an integrated marketing strategy, it is imperative to determine the various marketing communication channels you want to consider in your plan. Think about your target audience and how they consume information, gather data and conduct research on what they want to buy. From there, determine which channels are most relevant to your specific campaigns. For example:
Content marketing. Make your content available online through a blog, video marketing, premium content (through a landing page to capture information), pop-ups or dynamic content to help your potential customers learn more about your brand even before they start the decision-making process.
Email. Use email to re-engage your current audience through unique and useful content. A marketing strategy is not always about generating new leads. The most impactful marketing efforts come from delivering the right content at the right time to your existing subscribers.
Social media. Social media opens the door to relationship building, brand awareness development and website traffic generation. When combined with email marketing and content marketing, social media digital marketing campaigns can really deliver exceptional results by connecting with your target audience on a platform they already spend time on regularly.
#2 Develop your communications plan
Once you have determined the marketing channels that will resonate with your audience, you can move on with your integrated marketing planning. Now it's time to develop a comprehensive plan for executing your marketing communications. To do this, you should focus on three main aspects:
Audience. Determine the buyer persona for each of your audiences. For example, if you want to reach baby boomers, consider email marketing and Facebook. If your buyer persona includes millennials, consider WhatsApp and Instagram. Your target audience will define the channels you use to engage with them, not the other way around. 
Content. Define the content that best fits your audience. For example, if you're trying to generate new leads for your CRM, you may want to have a top-funnel offer, such as a newsletter subscription, or a checklist download on your page. If you are trying to convert existing leads into opportunities, consider offering case studies, video testimonials and more. This will help them in their decision making process.
Frequency. It's important to understand how often your audience likes to receive information. You can get this data from a variety of marketing automation platforms. If you see that for a specific product or service you offer, the general sales cycle is about 90 days, you'll want to match the cadence of your emails to that timeframe. Use the available data to make the best decision based on your audience and how often they engage with your brand.
#3 Understand the decision making process
Understand what makes your customers decide to buy a product or service, and then find out why they would decide to buy from you. The important thing here is to understand the problem you are solving for them, and how to help them in that decision process. You will find that some customers use an extensive decision process, but others use low levels of involvement to make limited, nominal or spontaneous decisions. It all depends on your business and what you sell. If it's a low-priced commodity, the time frame will be shorter. If you sell B2B software, it is likely to be longer because of the number of people involved.
#4 Implementing your plan
Now that you've done all your integrated marketing planning, it's time to implement it and see the results. Make sure you use a calendar to know what content is being sent to prospects at what time and on what channel. This will help you organize your campaign assets and communicate with your prospects at the right place and time in their decision-making journey.
To do this at scale, you're going to need some type of marketing automation software that aligns with your CRM so you can see the entire sales process. By using software that helps you implement your program, you'll be able to reach your audience in the most effective way and present them with an integrated, seamless and consistent message across a variety of channels with ease.
To help make your integrated marketing communication strategy comprehensive and results-oriented, continue to monitor the needs of your potential customers, focus on the capabilities of your product or service that solve their problem, and generate audience excitement. You can do this by monitoring engagement in your campaigns, email open and click-through rates, social interactions, requests to speak with sales and, ultimately, closed sales.