You're throwing your money away – Global Trends on Digital Advertising
A few years ago, the popular opinion was that digital advertising, especially social media, would be the end of "traditional media" and that we all needed to prepare for the online revolution. And the truth is, digital advertising grew more than 400% in the last decade and managed to rise to the top by having no entry barrier and allowing anyone to spend their money to advertise — no matter if they were Walmart or the local grocery shop.
Paid media has become a victim of its own success — saturating the consumers with ads. While digital ad spend has gone up over the past 10 years, the CTR rates have gone down and are hovering around zero.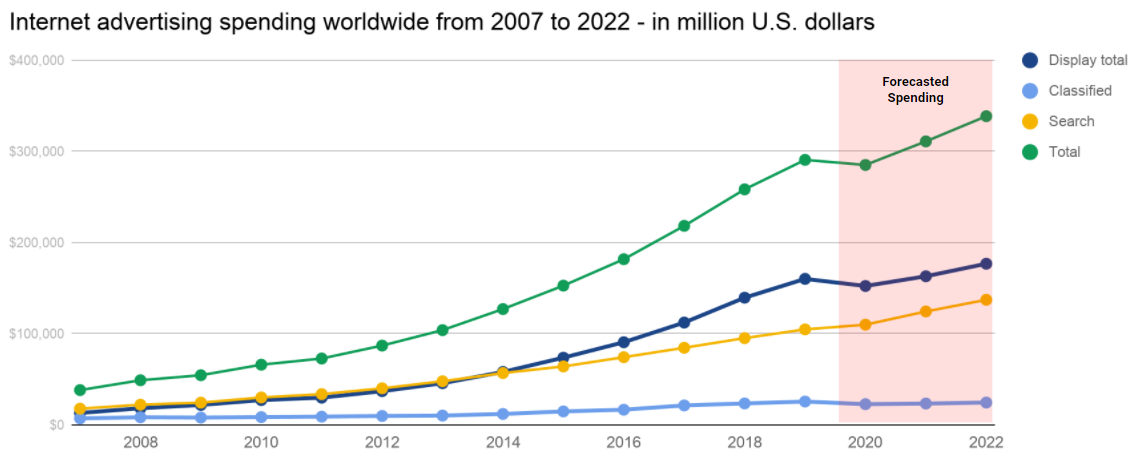 For this growth, Facebook and Google played a key role — they delivered results and gave control back to the people who are spending the budget.
But… Do they? Does the Google-Facebook duopoly still deliver results?
The duopoly in the digital ad-space is clear and will probably linger uncontested. This is mainly because media agencies and traditional media have been slow to play catch up with the digital giants. Google was the largest digital ad seller in the world in 2019, accounting for 31.1% of worldwide ad spending, or $103.73 billion. Facebook is №2, with $67.37 billion in net ad revenues, followed by Alibaba, at $29.20 billion.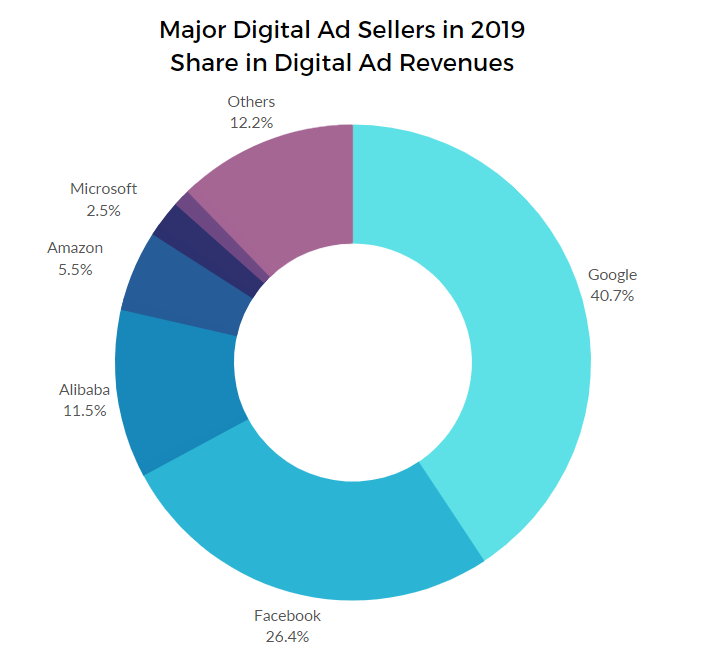 Ads Saturation — CTR towards 0%
Today, the rampant adoption and use of smartphones, apps, and social media have created an environment where, in addition to 120 or so e-mails, U.S. consumers also see an estimated 4,000–10,000 advertising messages every day. That includes everything from paid search and social media ads, to video pre-rolls, banner ads and notifications, and everything in between.
Through time, with channel saturation, advertisers are getting less and less value for every dollar spent on the main advertising platforms.
Having Google and Facebook hoarding most of the digital marketing spend, the saturation of the channels is evident. According to Statista, average global social CTRs are down 30%, year over year.
Looking at data from Adstage and their network-specific benchmarks for paid search and paid social, the CTR (click-through-rate) over time is slowly going towards 0% in Facebook and Google.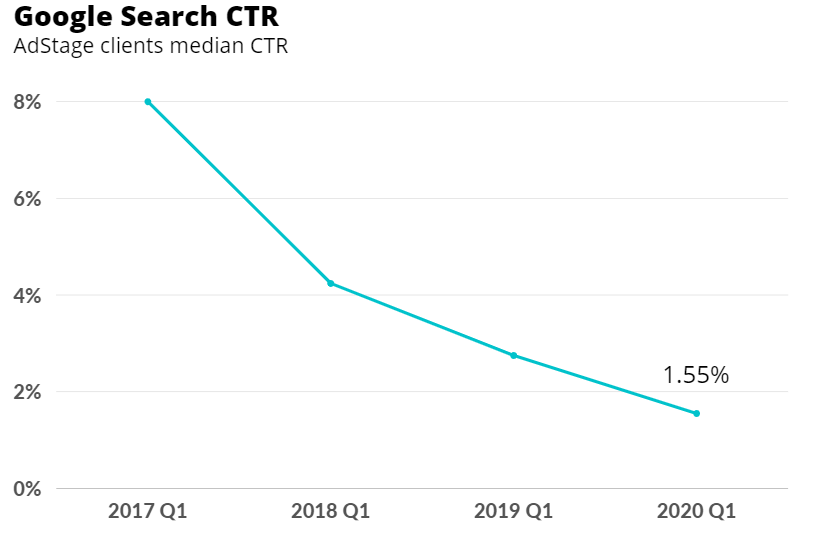 These benchmarks might be an indicator of the overall network's performance. Advertisers are getting less and less results over the time, by each dollar invested on social media advertising.
What is an alternative to Ads?
A trend that it is getting results beyond expected, is the Word of Mouth Marketing. Word-of-mouth marketing (WOM marketing) is when a consumer's interest in a company's product or service is reflected in their daily dialogues.
According to Nielsen, 92% of people around the world said they trust recommendations from friends and family (earned media) above all other forms of advertising.
WOM marketing differs from natural word-of-mouth references to a company's products and services in how it may come as the result of a promotion, encouragement, or other influence by a company, otherwise known as "seeding."
The encouragement on the part of a company may take one of several forms. The best way is to give them a reason to talk, such as exceeding expectations or providing insider skills or information about a product. Other strategies include offering consumers new ways to share information, engaging and interacting with the company.
How to launch a WOM campaign, scale it, and measure the results?
VoxFeed has the tools to do all of that. Our platform helps brands hit all the marks to establishing deeper and meaningful connections with their consumers and leverage that to attract new ones.
So, call us. This is what we do. We can help you find your fans, onboard, train, and engage them. We'll help you build a long-term, multi-campaign relationship with them so that with every campaign you do, you'll get to know which ones can drive buying activity, within which demographics, and how reliably they can do it. All of that, in only one platform.